An encounter with
2,000 years of history
Reims has an exceptional heritage, forged over the ages. From antiquity to today, the City offers a diversity of historical sites: Gallo-Roman remains, medieval monuments and also museums. So many opportunities for tours are available for you.
Carmen Moya
Discovering gallo-roman remains
Discover two remarkable sites in Reims: the Cryptoporticus and the Mars Gate.
The Cryptoporticus is located at the Place du Forum. Built around the year 200, it was used for grain storage. Admission is free, but to really appreciate it we recommend you choose the guided tour
The Mars Gate, built at the same time, is one of the four gateways to the ancient city. It is richly decorated with mythological themes that have deteriorated over the years. That's the reason restoration is underway. A few more months of patience are required before you can rediscover it.
#0074BD
Book your visits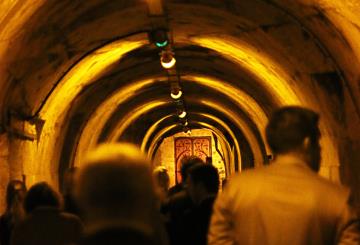 Take a journey through eight centuries of history and architecture with the tour of Notre...
The rich collection of the museum of fine arts
The composition of the collection of the Museum of Fine Arts is surprising. It illustrates the main artistic trends from the 16th century to the present day. You'll need at least 1.5 hrs there to appreciate the wealth of its collections. Poussin, Monet, Renoir, Foujita, Delacroix and Corot: beautiful surprises are here to discover as you tour the rooms. Temporary exhibitions also enrich the permanent collections several times a year. In short, our museum compares very favourably with even the greatest museums.
The unexpected foujita
The Chapel of Our Lady of Peace, also known as the Foujita Chapel, is an astonishing construction designed entirely by the Japanese artist, after his conversion to Catholicism. Admission is included in the admission ticket to the Museum of Fine Arts. This little building, located right opposite the Mumm Champagne Cellar Tours is definitely worth a visit for its originality. The painter expressed his faith in sumptuous frescoes with soft colours conducive to meditation. Our advice to you is to choose the tour with commentary. Explanations are essential to fully absorb this place that is full of surprises.
Discover
this amazing heritage
# Practical information
You need to know
 # The Foujita Chapel is open from May to October
# The Cryptoporticus is open from May to September
Tips
# The entrance in the Museum of Fine Arts and Foujita Chapel is free with the Reims City Pass