A romantic getaway
in the City of Coronations and Champagne
Want to discover Reims hand in hand, to savour a flute of Champagne in a romantic setting, or simply to share moments of discovery between you? Here are our top 3 activities for a romantic getaway in the City of Coronations and Champagne.
#1 Experience a sparkling weekend
Which wine is associated with romance? Champagne, of course. So, in Reims you will only have to choose what you like most: a tour of the cellars of a prestigious Champagne House, followed by a tasting, a gourmet meal in a restaurant accompanied by Champagne, an excursion in a vineyard or a tasting in one of the Champagne bars of the city.
#2 Make your better half a king or a queen
Visit the Cathedral of Reims on the arm of your beloved and discover the place where the Kings of France were crowned. The Palace of Tau, located next door, is an excellent complement for the visit to the Cathedral. A residence for kings when they came to Reims to be crowned, it is today a museum displaying the original statues of the Cathedral and a large number of objects related to the Coronations.
It is not necessarily romantic, but you must not miss it when coming to Reims, as a couple, with friends or with the family!
#3 Be tempted by gourmet food
The other specialty of Reims, after Champagne, is the pink biscuits. Come and discover the secrets of making this unusual biscuit, which you will love to eat by itself, or dipped in Champagne. Even more gourmet products? Give in to a getaway at the Lothaire Chocolate Factory for a tasting of Champagne and chocolates. A treat!
Book your visits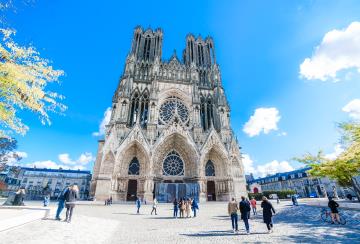 Notre-Dame de Reims, majestic Jewel of Gothic Art is an architectural marvel, the beauty...
Enjoy these activities
with your partner